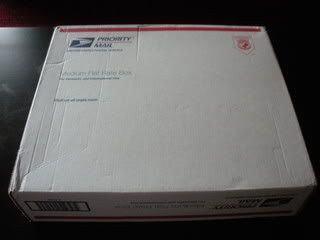 Well, my kit arrived yesterday and WOW! Lavender Ollivander really outdid herself and put together an amazing package for me!
Look at all those packages to unwrap! I was careful to take everything out of the box gently so I could preserve the wrappings and open all the contents slowly. I was good and read the little card first. It informed me that I was looking at a Defense Against the Dark Arts Kit!
I unwrapped the little presents and squealed over every single thing I saw. I got some gummy peach rings (my FAVORITE candy), 2 crochet magazines, a fancy wooden crochet hook (with a beautiful handle!), a little sweater keychain (handmade by women in Vietnam), a yarn cutter pendent, a shirt that says "Harry Otter" from the Oregon Zoo (too funny!), a luggage tag with my muggle initial on it and two beautiful skeins of yarn. The first skein is Malabrigo sock in Abril. I LOVE Malabrigo worsted and I am very glad to be able to try the sock yarn. It has all of my favorite colors in it - purples, pinks and blues. I couldn't have picked out a better yarn for me myself. The second is a cotton/rayon mix from Newton Country Yarns. It's gray cotton with a multicolor bit of rayon going through it. I love gray against any color, and this is unique and beautiful!
Thank you so much Lavender. I love everything in this kit. You are amazing! Now I'm off to replace the huge pair of scissors I carry in my project bag with my nifty little pendent. How did you know I needed one of those??